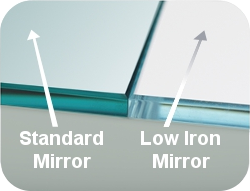 Low Iron Mirror
4mm or 6mm Mirrors
Shaped Mirrors
Bevelled Mirrors
Tinted Mirrors
Heated Demister Pads
Shaver Socket Cut/Outs
Single or Double Plug Socket Cut/Outs


Mainland UK Delivery
Secure Payments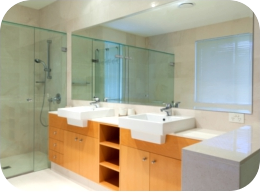 Please click below to order your made to measure Pilkington® Optimirror™ OW
Made to Measure Mirrors-Cut to Size Mirrors
Pilkington® Optimirror™ OW is our newest product for the made to measure mirrors range.
Pilkington® Optimirror™ OW is a high specification mirror manufactured on Pilkington® Optiwhite™ substrate(low iron glass) which gives a more brilliant and clearer appearance eradicating the green tint like normal mirrors sold elsewhere on the internet.
Pilkington® Optimirror™ OW is manufactured to a superior quality standard and offers 94% light reflection on 4 mm thickness. Due to its environmentally-friendly copper and lead-free characteristics, our made to measure mirrors can be utilised across a wide variety of buildings and applications including walls, partitions, doors, displays, ceilings, cupboards, wardrobes and other furniture.
Excellent resistance to natural atmospheric corrosion eliminating the need for foil backing. Our new made to measure mirrors have higher corrosion resistance and improved protection to chemical attack from cleaners and certain adhesives than conventional copper mirrors sold elsewhere on the internet. Environmentally friendly manufacturing process produces less waste and ensures easier onward recycling. Manufactured to European standard EN 1036.
The Mirrors and Glass team boast on average processing 6 tons of 4mm and 6mm Pilkingtons® low iron mirror 7 days a week,with either smooth polished or bevelled edges no matter what shape rectangular, circular, oval, arch top etc and of course our safety corners delivered to businesses and homes around the mainland UK with our own in house packaging department with strict quality control for small to medium sized mirrors,large or bulk quantity mirrors delivered by our own distribution team 7 days a week.
Made to Measure Mirrors can also be collected Mon-Fri 9-5.
Please click below to order your made to measure Pilkington® Optimirror™ OW
Made to Measure Mirrors-Cut to Size Mirrors